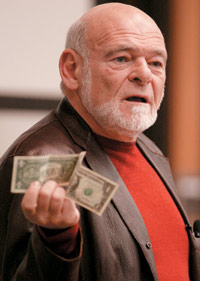 By Michael Oneal, Tribune reporter
'The bankruptcy equivalent of World War III' might break out if junior creditors are allowed to bring fraudulent conveyance charge, they say.
Tribune Co.
and a group of senior creditors in its Chapter 11 bankruptcy case sought Thursday to block an attempt by junior creditors to challenge the legality of
Sam Zell
's 2007 leveraged buyout of the Chicago-based media conglomerate.
Arguing in particularly colorful language that "the bankruptcy equivalent of World War III" might break out if U.S. Bankruptcy
Judge Kevin Carey
allowed the junior creditors to bring such a complaint, senior creditors insisted that "vigorous settlement negotiations are ongoing. There is not a single reason to unleash the hounds of litigation right now, with all the irreversible attendant costs and consequences."
The moves were part of a broader effort by Tribune Co., owner of
the Chicago Tribune
, and its creditors at all levels to stake out negotiating positions ahead of a key Feb. 18 hearing in Wilmington, Del., that could help determine whether the company emerges from bankruptcy sooner or much later.
At issue is a Feb. 1 filing by the Official Committee of Unsecured Creditors seeking Carey's permission to bring a case alleging that the Zell-led LBO was an instance of fraudulent conveyance, meaning the transaction itself rendered the company insolvent from day one.
If the committee was able to prove its charges, the judge could wipe out more than $8.6 billion in claims owned by the senior creditors who financed the deal, leaving a much bigger pie for junior creditors further down the claims hierarchy.
Both Tribune Co. and the senior group have obvious reasons to try to stave off a fraudulent conveyance case. Tribune managers, who have been trying to broker a settlement between junior and senior creditors for more than a year, want to exit bankruptcy as soon as possible. And senior creditors might lose leverage in negotiations if their junior adversaries are allowed to proceed with an official fraudulent conveyance complaint.
In separate filings, both appealed to the judge's interest in a smooth proceeding. They said that settlement discussions are going well and Tribune Co. insisted that it is close to filing a plan of reorganization, echoing a filing earlier this month in which it said it may have a plan for the court by Feb. 28. In trying to broker a settlement, the filing said, Tribune Co. managers have taken into account the fraudulent conveyance claims.
Tribune Co. is "actively addressing these claims through a process of negotiation and, soon, a plan of reorganization," the filing said.
A group of Tribune Co.'s most junior bondholders, meanwhile, said in a filing that the creditors committee wasn't pressing the fraudulent conveyance charges forcefully enough. It argued for the court to appoint a separate examiner to investigate the LBO, and, failing that, the right to join the junior creditors' case (if it goes forward) so it could have the opportunity to beef it up.
Wilmington Trust Co.
, the trustee for the group, said evidence currently under seal shows that Zell and Tribune Co.'s board knew the LBO was overly risky and that the banks abetted them in breeching their fiduciary duty. Tribune Co. and all of the other creditor groups have opposed Wilmington's motion.
mdoneal@tribune.com
Junior Creditors Press Their Case Against Banks, Zell in Tribune Co. Bankruptcy
By Mark Fitzgerald
http://www.editorandpublisher.com/
CHICAGO Management at Tribune Co., Sam Zell and the banks that would finance the leveraged buyout (LBO) Zell led to take the Chicago media giant private all knew before the deal was sealed in December 2007 that it would likely bankrupt the company, a group of bondholders allege in documents filed in Bankruptcy Court in Delaware.
"In the months and weeks leading to the LBO, Tribune knew that actual results were falling short of its projections and that the proposed LBO was incredibly risky for company," wrote lawyers for Wilmington Trust, which is representing a group of holders of so-called PHONES and other unsecured notes who are well back in the line of Tribune creditors. "Like Tribune, the LBO banks also consciously disregarded the market's prediction and their own internal analysis in large part because the PHONES and senior notes provided a cushion and would bear the brunt of insolvency," Wilmington Trust said.
In a flurry of court filings Thursday, all sides in the bankruptcy traded volleys over Wilmington Trust's request to be allowed to argue the Tribune LBO was a "fraudulent conveyance," that is, a deal that was known to be doomed from the start.
The group of noteholders also want the court to appoint an examiner, claiming the official committee of unsecured creditors is not pursuing obvious wrongdoing in the deal. Senior Tribune creditors, who would share most of Tribune's remaining assets when it emerges from bankruptcy reorganization, argue allowing the fraudulent conveyance allegations and appointing an examiner would be disruptive to "delicate" ongoing negotiations and would waste Tribune resources.
"Despite the (Wilmington Trust) motion's overwrought tone, the issue presented for judicial determination is straightforward: should the Court appoint an examiner to conduct a disruptive, expensive and wholly-duplicative investigation of potential causes of action already being investigated and pursued by the committee," attorneys for the official committee of unsecured creditors wrote. The PHONES holders, who bought notes issued in 1999 when Tribune was prosperous, are simply angry that their debt is "deeply subordinated" by contract, the committee argues.
The fraudulent conveyance allegations are just a way to get negotiating leverage, "Any suggestion that the committee has been sluggish in pursuing those claims is belied by the committee's clear and decisive step towards putting its months of preparation and planning into action," its filing said. "The real problem here is not that the Committee's makeup has compromised or impaired its ability to investigate and pursue potential claims arising from the LBO, but rather that Wilmington Trust, as the indenture trustee for a deeply subordinated constituency at the very bottom of the Debtors' debt structure, has been unable to direct the committee course of action to its own parochial satisfaction."
Large parts of the Wilmington Trust filing is blacked out under a court seal.
Mark Fitzgerald (
mfitzgerald@editorandpublisher.com
) is editor of E&P.