By Holly Rosenkrantz
There's a common thread running through these developments. Organized labor is gaining momentum under the Democratic administration of President
Barack Obama
.
Though reaching their most-publicized goals -- legislation making it easier to organize and a government-run health insurance program -- remains in doubt, unions are making other gains through executive orders, rule changes and appointments. More advances may be ahead as regulatory nominees are confirmed.
"You absolutely know something is going to happen to you, you just don't know when," said
Michael Lotito
, a San Francisco attorney at Jackson Lewis LLP who handles labor issues for companies. "There is going to be a flurry of labor action down the pike."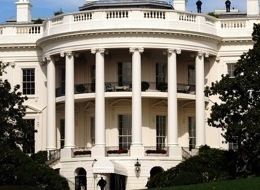 Their status is a change for labor officials, who say the Republican administration of
George W. Bush
was hostile to their agenda. "Welcome back to the White House!" Vice President
Joe Bi
den
said to union leaders who met with the president at the White House 10 days after his inauguration.
John Sweeney
, 75, who headed the AFL-CIO for 14 years before stepping aside last month, says he was invited to the White House once during Bush's eight years in office. That was at the request of visiting Pope Benedict XVI, he says. The
AFL- CIO
is the nation's largest union group.
'Wandering in Wilderness'
Richard Tru
mka
, 60, Sweeney's successor, says he meets monthly with Obama, and that union representatives have "daily contacts throughout the administration." Obama officials visit with labor leaders "frequently," White House spokesman
Tommy Vietor
said.
"After eight years wandering in the wilderness, unions have unprecedented access to the White House, and early directives and appointments have been encouraging for them," said
Harley Shaiken
, a labor relations professor at the University of California at Berkley.
Unions were among Obama's biggest supporters in the 2008 election, with 68 percent of AFL-CIO members voting for him in so-called battleground states, according to an election night poll by Peter Hart Research Associates. Labor unions and their political action committees spent a record $450 million during the campaign to help Democrats win the White House and gain control of Congress.

Obama sided with the
United Steelworkers
last month against tire makers such as Cooper Tire and imposed 35 percent tariffs on tires imported from China. Bush rejected putting tariffs on Chinese products all four times the issue came before him.
Cooper Tire
Cooper
, the second-biggest U.S. tire maker after Goodyear Tire & Rubber Co., produces low-cost tires in China and opposed the tariffs. The Steelworkers argued that a surge in Chinese tires threatened U.S. jobs.
"It's certainly been more difficult," said Michelle Zeisloft, a spokeswoman for Findlay, Ohio-based Cooper. She declined to elaborate. Because of the tariffs, Cooper went from breaking even on imported tires to losing $14.50 on each one, according to a Sept. 21 report by JPMorgan Chase & Co.
"This was done to support a fairly small pool of union workers," Bill Trimarco, chief executive officer of closely held Hercules Tire & Rubber Co., also based in Findlay, said in an interview. "They won at the expense of companies like ours."

Complaints from business about union gains are an affront to workers, said
Leo Gerard
, president of the United Steelworkers.
"All those 'victories' they are talking about -- that's pablum from those bastards," Gerard, 62, said in an interview. "All we're doing is standing up for jobs."

The Steelworkers also pressed for the "Buy American" provision included in Obama's $787 billion economic stimulus program adopted in February. Obama's bailout of General Motors Co. and Chrysler Group LLC saved jobs of United Auto Workers members, and the International Brotherhood of Teamsters claimed victory when Congress scrapped in March a pilot program allowing Mexican trucks to deliver products in the U.S.
"Unions have accomplished a lot with the administration in less than a year," said
Clayton Boyce
, a spokesman for the
American Trucking Associations
in Arlington, Virginia. The trade group's members include United Parcel Service Inc., FedEx Corp. and YRC Worldwide, Inc., the biggest U.S. trucking company by sales.
(Bad) Trade Deals Stalled
The AFL-CIO and the Teamsters also led union opposition to a pending free-trade agreement with Panama. The
U.S. Trade Representative's
office dropped plans for a vote on the measure in May, saying Obama wanted first to offer a new "framework" for how trade fits into other administration programs.
He has yet to do that. Behind the Panama deal in the trade queue are tentative agreements with Colombia and South Korea, supported by companies including Caterpillar and Walmart.
"We're beyond being befuddled; we're frustrated," said
Bill Lane
, director of government affairs for Peoria, Illinois- based
Caterpillar
, the world's biggest maker of construction equipment. "There is way too much focus on protectionist schemes that are intended to close the U.S. market."
The trade office "is actively working" on the agreements, spokeswoman
Carol Guthrie
said in an e-mailed statement. "A common misconception" is that the accords "were presented to this administration 'sitting there with a bow tied around them ready to go,' when in fact there is more work to be done," she said.
Delta Air Lines
, the world's largest carrier, would be more likely to lose union elections sought by flight attendants and machinists if a proposal by the AFL-CIO is approved.
The workers asked the National Mediation Board in July and August to clear the way for an election. Last month, the AFL-CIO petitioned the board to revise procedures and allow a union if most of those voting approve, instead of a majority of all workers in the class.
The board plans to announce a proposal in coming days to advance the union request on voting rules, people familiar with the matter said. Seven Republican senators said in a Sept. 30 letter that the board was delaying a decision on the union election while it considers the new vote-counting method.
The AFL-CIO request is "unbelievable," said
Robert Corker
, a Tennessee senator who signed the letter. "I think big labor is going to unfortunately be given an unlevel playing field" in the Obama administration, he said in an interview.
The mediation board declined to comment.
The Obama administration in May added a former flight- attendants' union leader to the three-person board, replacing a former lobbyist for Northwest Airlines, which is now part of Atlanta-based Delta. Another board member is a former pilot- union official.
"You have two former heads of AFL-CIO unions at the NMB and they really are politicizing the process," Delta CEO Richard Anderson said on a conference call with investors last week.
"Our employees deserve to have union representation resolved promptly, using a process that is fair and consistent" by following existing rules, said
Gina Laughlin
, a Delta spokeswoman, in an e-mail. Delta is the least-unionized major U.S. airline.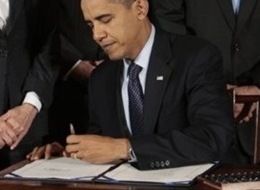 The first bill Obama signed into law as president, nine days after taking office, was a pro-labor measure. The Lilly Ledbetter legislation, named for the woman who won a case before the U.S. Supreme Court, makes it easier to fight pay discrimination.
More bills supported by labor, stalled in past years because of White House opposition, have Obama's support and may get the votes to pass once they get on the legislative calendar.
These include measures barring workers from getting fired because of their sexual orientation, stiffening penalties for violations of Occupational Health and Safety Administration regulations, and requiring companies to provide workers with a week of paid sick leave.
Obama also has scrapped a number of Bush rulings opposed by unions. One required federal contractors to post notices telling workers they can limit their financial support of unions. Another let contractors be reimbursed for expenses that could be used to dissuade workers from forming a union.

The proposal, to be announced in coming days, would let workers form unions with a majority approval of those voting, according to the people, who asked not to be identified discussing the plan. The change would overturn a standard that requires support of most workers in a class, not just those who cast ballots.
A National Mediation Board spokesman didn't immediately return a telephone call to comment.